I thought I would do this review on the same night the new "Antman" trailer comes out, featuring the second appearance of Jonathan Majors as MCU Phase 5 major villain, Kang.  This figure though, represents a Kang variant known as "He Who Remains".  This character may not be full on Kang, but more like a precursor of things to come.  BUT, he is the first Jonathan Majors action figure.  Of course people have been hyped on Jonathan Majors since his groundbreaking role in "Lovecraft Country", but he's been good (or will be good) in everything he's been in including "Da 5 Bloods", "The Harder They Fall", "Devotion", and even the highly anticipated "Creed 3".  The fact that he will now play the Marvel Cinematic Universe's big bad (after Thanos) is just icing on the cake.
I was pretty excited for this figure even though he only appears on Loki for a few minutes….but it's such an integral part of the whole MCU storyline.  Let's check out to see how Hasbro did in bringing this character to action figure form…
The next figure in the new packaging.  I still like the 95% cardboard approach, but with some caveats…be sure to open the box as soon as you get the figure and check it out if you are purchasing the figure nearly from any retailer.  I have been "bamboozled" twice now, and these boxes haven't even been around for all that long.
On the front, we get a product picture of the figure along with the "Loki" TV show logo.  If you look closely on the right side, you see an illustration of the character, and on the left side, you see a picture of the build-a-figure…for this wave, it is none other than Khonshu from the "Moon Knight" TV show.
On the back, you get another shot of the figure in a different pose, and a picture of both the Build-A-Figure piece that comes with the figure and any accessories (we'll talk about accessories or lack thereof later).  The bottom half of the back packaging is left for legalese and stuff.  I assume for spacing purposes, we no longer get a picture of the head shots from the whole wave.  Instead, the names of the figures on the left side must suffice for now.  Hoping that changes again sometime in the near future.
Still somewhat a fan of the packaging (I can toss the whole thing in the recycle without yanking the plastic off), but still giving it an average score…
Packaging Score: 7.5 out of 10
Talking about accessories, let's talk "lack thereof"….although there is a plausible reason why.  You see, he was just in the series finale of the "Loki" series for just a few minutes and….wait for it…he was eating a green apple.  So what accessories do we get?  Just a green apple.
I mean, what else could we have received?  He didn't have any weapons.  He didn't have any powers that we saw, so no blast effects.  I mean, the only other thing I can think of would have been maybe his desk and chair.  Or maybe even a "Miss Minutes" figure…that would have been nice.
What other plastic was included with this?  Of course we got the build-a-figure piece, which in this case was the Khonshu head.  A pretty big and pretty significant part of the build-a-figure, so I am almost willing to give the lack of anything else a pass.  At the very least, give it a middling score…
Accessories Score: 7.5 out of 10
I don't know if it's just easier for Hasbro to reproduce some people rather than others, but dammit, they knocked it out the park with this one.  For $25 retail, we get a more-than-passing resemblance to Jonathan Majors.  I can only imagine the Japanese and Chinese companies doing it better with their figure headsculpts, but for the money, this is it right here.  Color me impressed.  So much unlike that crappy ass "Selfie Series" that Hasbro is promoting right now.  Would hate to see how that would have turned out for him.
The colors on the figure matches what the character wears on the show, but it's so dark on the show that the figure just looks brighter in comparison to the dim lighting in the show.  The figured is wearing colors in the iconic "Purple and Green" which is not only associated with the comic book version of Kang, but so many other villains (and a couple of heroes, like the Hulk).  Love the ensemble.
I'm glad of the attention to detail they put into this figure.  Sculpted in the figure's left hand is some decorative adornment.  I'm not sure if it is significant or not, but it's there.  And the basics of the outfit are there, even though a black paint wash would probably do miracles to this figure.
The headsculpt impressed me so much that I'm letting a lot of stuff slide…
Sculpt/Likeness Score: 8.5 out of10
Whew, articulation.  Well, we see the character is wearing a big, plastic, representation of a long coat, so we know there will be a lot of hindered articulation.  And yes, I find that to be true.
There are about 27 points of articulation on the figure, but of course there are so many layers of "clothing" or hard plastic, that it feels like so much less.  I finally get the appeal of pinless arms and legs and it does feel somewhat different than older articulation.  The elbows bend all the way down, a difference from the look and feel of the "double-hinged" elbows.  The shoulders, legs and ankles feel different as well.
If the coat wasn't on this figure, I feel like this would be a decently articulated figure.  But really, you don't need much "action" from this figure, so as long as it's there standing and posing, you should be good.
Articulation Score: 7 out of10
Aiight, back to the Antman trailer.  Did y'all catch it?  if not, check this out…
Antman, Wasp, Kang….and MODOK?!  And I still feel like we aren't seeing everyone.  Hopefully in another month, there will be more surprises to come.  Now I/we just have to wait until February 17…I guess I will finally watch Avatar 2 in the meantime…been avoiding it thus far.
This is a sparse figure of an antagonist that showed up for about 15 minutes….but I still love it and feel like this is much needed in your collection.  This dude will definitely be the next Samuel L. Jackson of action figures.  I actually hope we see "He Who Remains" again in the future.  Maybe in the "Avengers: Secret Wars" movie, maybe in "Loki" season 2…..but wherever he shows up, I know it will be dope.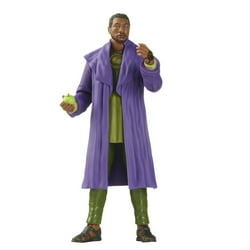 Walmart Link
DISCLAIMER: This review contains affiliate links, which means that if you click on one of the product links above (on Walmart and/or Amazon) and purchase this product, I'll receive a small commission (at no cost to YOU). This helps support the site and allows us to continue to make posts like this. Thank you for the support!